Posted November 29th, 2007 by RetiredPlayers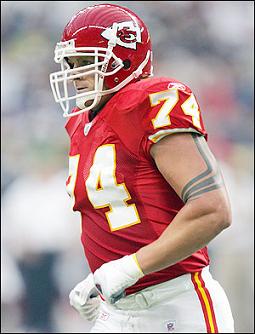 Kansas City Chiefs offensive lineman Kyle Turley has announced he will donate his entire game check from the Chiefs – Lions game on December 23, 2007 to the Gridiron Greats.  The pre-tax amount of Turley's game check is roughly $42,000.  Gridiron Greats is a non-profit organization which provides financial assistance and social services to retired NFL players in dire need.  In a press conference on Tuesday, November 27, 2007, Turley called upon other current players to join him in donating a portion of their game checks to the cause.  The initiative is being called "Gridiron Guardian Sunday".
Turley, a nine-year NFL veteran, said 15 to 20 players have already pledged part or all of their December 23 game checks in conjunction with Gridiron Guardian Sunday.
"They are the leaders of their teams, and I hope they stand up when their local media asks question about this," Turley says. "I hope they educate the younger guys about why we are doing this."
Turley has written a letter explaining the issues that will be distributed to every team's locker room prior to December 23.
There has been much attention focused on the NFL disability plan this year as the dispute between retired players, the NFL, and NFLPA made it's way before Congress.  Turley has been surprised by the lack of action from Gene Upshaw and the union.  "Gene just seems to be hoping that these [old players] simply fade away," Turley said.
The NFL disability issue is nothing new to Turley.  Three years ago, after major back surgery and being released by the St. Louis Rams, he applied for NFL disability benefits and was promptly denied.  Turley said there was solid medical evidence in support of his claim for NFL disability benefits.
While the amount of money Turley is donating is significant, his speaking out on the issue is even more significant.  With active players having the ability to elect union leadership, today's players have the ability to make a strong statement about the current union leadership's handling of both active and retired players' health issues.