Posted October 8th, 2008 by RetiredPlayers
More than a dozen athletes, including nine NFL players, two NBA players, an NHL player, and a member of the U.S. national soccer team, have decided to donate their brains after their deaths to the Boston University Center for the Study of Traumatic Encephalopathy.  So far six tissue samples acquired from deceased NFL players have been examined.  Five of the six tissue samples showed evidence that the players suffered from chronic traumatic encephalopathy, a type of brain damage commonly associated with boxers.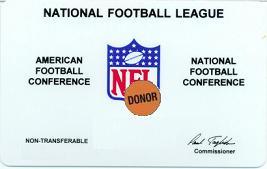 The Sports Legacy Institute acquired the six tissue samples already examined.  The Institute recently launched a brain donation program for athletes, current and retired, with and without a history of concussions.  United States military veterans are also being asked to participate in the donation program so that more can be learned about injuries sustained in battle.  It is hoped that the research will help millions of athletes of all ages in the future, along with military veterans.
The Daily Free Press recently covered the work of the Sports Legacy Institute.  The article shows visual evidence of the difference between normal 65-year-old brain tissue and the brain tissue of deceased NFL player John Grimsley who suffered from chronic traumatic encephalopathy.  You can access the article by clicking HERE.
Visit the Sports Legacy Institute website to learn more about the brain donation program.
The Sports Legacy Institute is seeking donations from both active and retired athletes with or without a history of concussions.  If you are interested in participating in the Sports Legacy Institute brain donation program you can download the donation pledge form by clicking HERE.