Posted November 5th, 2008 by RetiredPlayers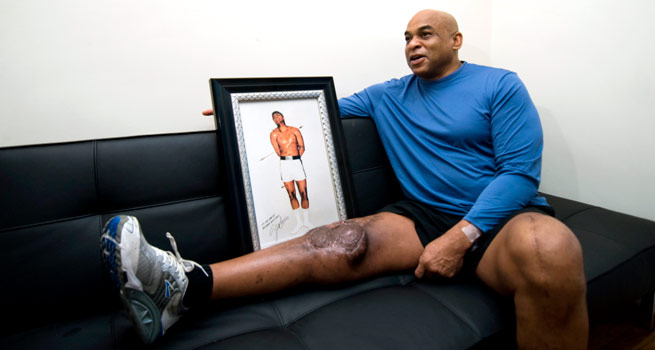 Reggie Williams' list of accomplishments is impressive even when you exclude his NFL career.  Born with impaired hearing, he attended the Michigan School for the Deaf.  He left high school with a 3.8 grade point average and graduated from Dartmouth College.  Williams was a member of the Cincinnati City Council and spearheaded legislation which helped end apartheid in South Africa.  He also served as vice president of Walt Disney Sports Attractions.
Throw in that Reggie Williams is the last Ivy League player to receive First Team All-America honors in football, played fourteen seasons in the NFL, competed in two Super Bowls, was named NFL Man of the Year in 1986, Sports Illustrated's Co-Sportsman of the Year in 1987 and his accomplishments may be unmatched.
Williams traveled from his home in Orlando to New York for knee surgery and what he thought would be a brief stay in the Big Apple.  His brief visit has turned into a seven month stay while living in a studio apartment.  He has had nine surgeries since he arrived in New York and undergoes daily infusions of intravenous antibiotics.  Now Williams isn't just hoping to walk again.  Reggie is fighting to save his right leg from amputation.
At 54 years old, Reggie Williams' goals have changed.  The sky was the limit for his goals as a social reformer, but his current goal is something that is an everyday occurrence for most people.  Williams simply wants to be able to pick up and hold his two year old granddaughter.  He says that being able to do that will be his Super Bowl victory.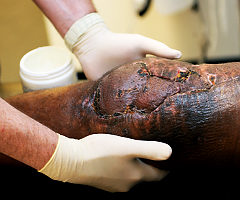 Reggie Williams has had both of his knees replaced and has undergone twenty knee surgeries.  However, the NFLPA and NFL Management Council denied Williams application for disability benefits.
Throughout his health problems, Williams optimism and will are seemingly unmatched.  He found inspiration in an e-mail he received from Bishop Desmond Tutu when his infection became so bad that he was quarantined in a New York hospital.
Click HERE for an inspiring video on Reggie Williams' accomplishments and his current fight to save his leg.