Posted November 10th, 2008 by RetiredPlayers
After three weeks of testimony a jury awarded over 2,000 retired NFL players $28.1 million in a lawsuit regarding the licensing of their images.  The jury said the union breached its fiduciary duty to the retired players and violated the terms of the players' group licensing agreements.  $7.1 million was awarded in actual damages and an award of $21 million was given for punitive damages.  The purpose of a jury awarding punitive damages is to punish a defendant and to deter a defendant and others from committing similar acts in the future.  Punitive damages may be awarded only if defendant's conduct was malicious, or in reckless disregard of plaintiff's rights.
A jury comprised of eight women and two men listened to three weeks of detailed testimony regarding the operations of the NFLPA and Players Inc.  NFL Hall of Famer Herb Adderley served as the plaintiffs' class representative and sat through five and a half hours of testimony each day wearing his yellow NFL Hall of Fame coat.  Herb is 69 years old.  Adderley's teammate and fellow NFL Hall of Famer Bart Starr made the trip from his home in Alabama to hear closing arguments in the case.  Many other retired players attended court sessions to lend support to the plaintiffs.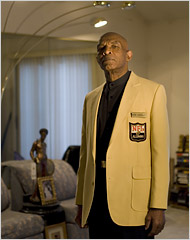 "I won three Super Bowls and this feels better than all of them combined," Adderley said immediately after the verdict was announced. "I always felt I had one big play left."
Adderley was said to have wept as the verdict was read.
"This verdict is a great victory for the men who devoted their lives to building professional football," said Lew LeClair, one of the attorneys for the retired players. "We are thankful the jury decided to right this wrong."
Jeffrey Kessler, a lawyer for the union, said, "The decision is contrary to the law and it's an unjust verdict and we are confident it will be overturned."
Last month Kessler incorrectly predicted the jury would reject the plaintiffs' claims.
NFLPA Interim Executive Director Richard Berthelsen said the union will first ask the judge to reverse the verdict and will appeal the decision if that's unsuccessful.
"We felt we had to send a message that the union needs to represent and protect all its members," said Susan Smith, part of the 10-person jury that voted unanimously in favor of the retirees. "We felt the players' union didn't do that."