Posted January 26th, 2009 by RetiredPlayers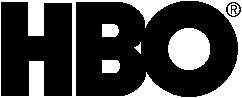 On January 20, 2009, HBO's Real Sports aired a segment that focused on the class action lawsuit filed by retired players against the NFLPA and its' licensing arm, Players Inc.  The title of the segment was "Disunity".
The piece opened in the home of Dave Pear, who won a Super Bowl in 1980 with the Oakland Raiders as a defensive lineman.  Pear played in the Super Bowl with a broken neck.  Since his retirement he has had seven spinal surgeries.  Pear deals with pain on a daily basis.  He was denied NFL disability benefits for 25 years.
Six years ago, Dave Pear received a letter from the NFLPA and Players Inc asking him to sign a Retired Players Group Licensing Agreement.  He was grateful for the program and hoped that the money generated would help ease the financial burden of his countless medical bills.
HBO journalist Frank DeFord then interviewed retired NFL Hall of Famers Joe DeLamielleure and Herb Adderley, along with former Pro Bowl player Bruce Laird.  They spoke about their understanding of the Retired Player Group Licensing Agreement which they signed.  The agreement states:
Group licensing programs are defined as programs in which a licensee utilizes a total of six (6) or more present or former NFL player images in conjunction with or on products that are sold at retail or used as promotional or premium items.
DeLamielleure, Adderley, and Laird all believed that whenever the images of six or more NFL players were used that they would receive a share of that money just as it states in the Group Licensing Agreements they signed.
Unfortunately, even though the NFLPA solicited retired players to sign the Group Licensing Agreements for over 13 years, not a dime was ever paid to a retired player through the group licensing agreement program.  The frustration with the Retired Players Group Licensing Program led to the filing of a class action lawsuit on behalf of over 2,000 retired NFL players.
Jeffrey Kessler, outside counsel for the NFLPA, told HBO that because only current players' licensing rights were ever used by companies that they were the only ones paid.  A quick internet search turns up a few examples of "six (6) or more present or former NFL player images" being used, but the retired players were never paid pursuant to the Retired Player Group Licensing Agreements.  Some of the examples are the Madden NFL video game series, the McFarlane Toys NFL Legends Series 1, 2, 3, and 4.  Also, this month Topps came out with a vintage trading card set which features cards of many retired NFL players.
Kessler also told HBO that the union tried to market retired players, but they weren't able to attract star players.  Companies weren't interested in "unknown players".  Here is a list of some of the "unknown players" who the NFLPA was unable to license in a group of six or more even once in a span of over 13 years:
| | | |
| --- | --- | --- |
| Harry Carson | Ozzie Newsome | Herchel Walker |
| Frank Gifford | Jim Otto | Archie Manning |
| "Mean Joe" Greene | Gale Sayers | Ken Stabler |
| L.C. Greenwood | Lee Roy Selmon | Tony Siragusa |
| Forrest Gregg | Art Shell | Phil Simms |
| John Hannah | Y.A. Tittle | Mark Rypien |
| Paul Hornung | Randy White | Tom Rathman |
| Sam Huff | Dave Wilcox | Andre Reed |
| Deacon Jones | Willie Wood | John Randle |
| Willie Lanier | Ron Yary | Brent Jones |
| Steve Largent | Jack Youngblood | Russ Grimm |
| James Lofton | Roger Craig | Mike Golic |
| Don Maynard | Randall Cunnigham | Herb Adderley |
| Hugh McElhenny | Jack Del Rio | Elvin Bethea |
| Jim McMahon | Herm Edwards | Buck Buchanon |
The NFLPA was not looking for opportunities to market retired players.  The union was doing just the opposite.  The manufacturer of the Madden NFL video game, Electronic Arts, contacted the union numerous times to inquire about the use of retired players in the game.  The NFLPA communicated that it didn't want Electronic Arts to use any retired players in the game.  You may click to enlarge the following e-mail messages: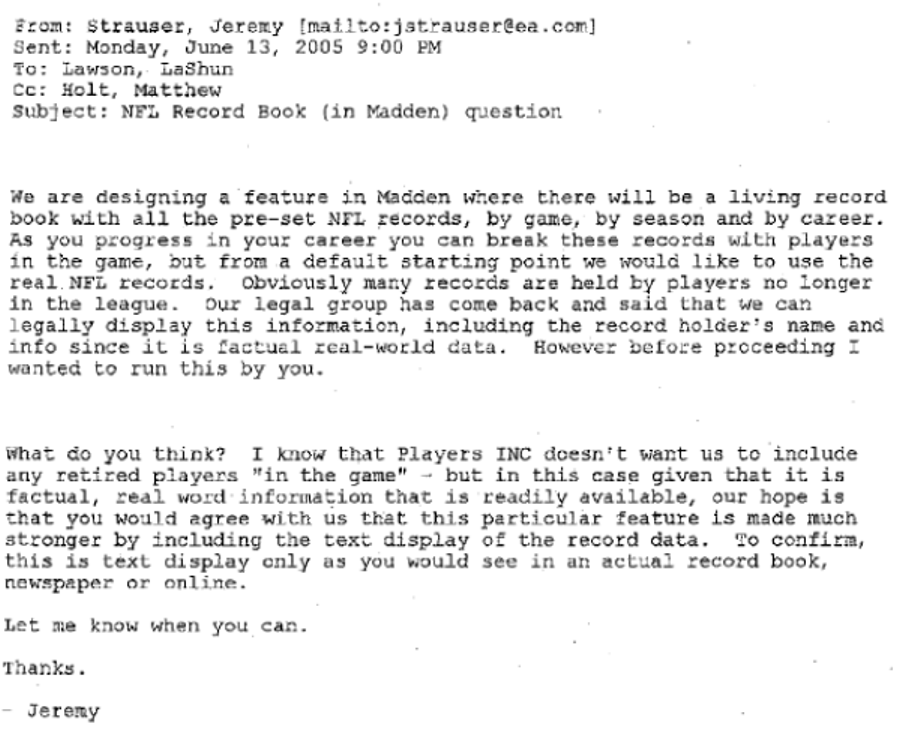 In another e-mail, an employee of Electronic Arts, reports that despite their efforts to convince them otherwise, the union has "taken a hard line no retired players in the game in any form."

After 13 years of frustration, retired players hired attorneys to look after their best interests.
Chad Hummell, an attorney for the retired players, said, "They (the NFLPA) exploited the players.  They brought them in.  They had them sign this contract and then they abandoned them.  And worse than that, they actually had opportunities to get revenues for these guys and they turned their back on them completely."
After years of complaints about the NFLPA from retired players, it took just three weeks of testimony heard by the jury for them to return with a unanimous verdict.  The jury awarded retired players $28.1 million based on the union's breach of contract and breach of fiduciary duty.
Dave Pear concluded the segment by saying of the NFLPA, "All we are asking for is for them to be fair.  Live up to the bargain.  That's all we're asking for."
The NFLPA's sole representative was attorney Jeffrey Kessler of Dewey & LeBoeuf.  Not a single active NFL player or union employee was interviewed for the segment.  Active players, the people who are supposed to run the union, have not commented on the lawsuit in the media.
Richard Berthelsen, the Acting Executive Director of the NFLPA, has stated that the union will appeal the decision.  If an appeal is filed, it could be years before the case finally concludes.
The Real Sports program featuring the retired players lawsuit will be replayed several times in the coming weeks.  The program also featured stories on staph infections in the NFL, broadcaster Al Michaels, and a segment on the prevalance of guns in professional football.